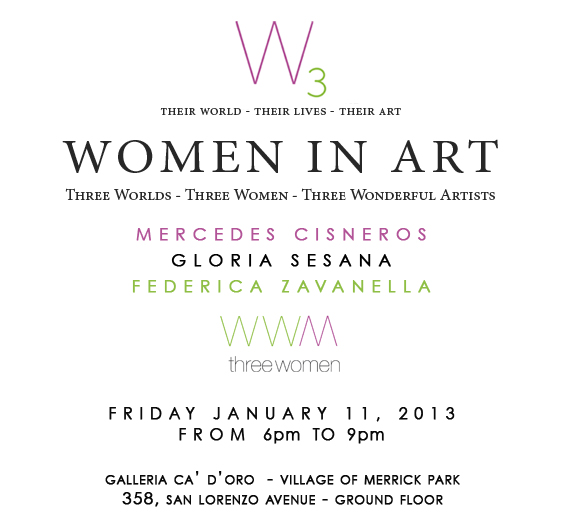 THREE WOMEN IN ART | Their world, their lives, their art.
Galleria Ca'd'Oro presents W3 – Women in Art the distinctive artwork of three influential women in Miami:  Mercedes Cisneros, Gloria Sesana and Federica Zavanella
RECEPTION OPENING FRIDAY, JANUARY 11, 2013 FROM 6PM-9PM
January 4, 2013 (Miami): Galleria Ca d'Oro announces it's first art exhibition of the year W3 – Women in Art opening at it's location at the Village of Merrick Park- Ground Floor Suite 1505, 358 San Lorenzo Avenue, Coral Gables, on Friday, January 11, 2013 from 6pm-9pm. W3 – Women in Art, curated by Gloria Porcella, celebrates three of the most influential women in arts and culture in Miami. The exhibition continues through January 25, 2013.
The exhibition presents an eclectic mix of photography, portraits and still life paintings of three visionary women who are capturing their world through art. They might come from different countries and backgrounds but their common language is art. And through their art there is a thread that ties them together, a sensitivity, an attention to detail, a delicate stroke, an inner force that is expressed in their art form, with so much vital energy, which is exposed by their use of color, technique and composition.
"This exhibition is an homage to women, women that are not only great professionals but also mothers, wives, and artists. Three is the perfect number and W3 – Women in Art is the title we have chosen to represent them with their works- so different but so full of energy, each of them in a different way" says curator Gloria Porcella.
Mercedes Cisneros, who is a practicing attorney and chairman of the City of Miami Arts & Entertainment Council, will be showcasing her portraits, which are beautifully executed in the classical tradition she has been trained by at Romero-Hidalgo Studios in Miami. "I first do a detailed drawing with silverpoint to avoid fixing the drawing with the medium. Then I use the verdaccio technique for the paintings" says artist Mercedes Cisneros. "The background of my portraits are made of 24K gold leaf and for this process I first apply a layer of red bole onto a smooth gesso board; once totally dried I use a thin layer of rabbit skin glue mixture to adhere the gold leaf. The gold leaf is carefully adhered in small rectangles on the surface." Her mastery in this method as allowed her to create portraits that transcend time and space.
Gloria Sesana, a Colombian photographer based in Miami, will be showcasing her rich and sensual landscapes, which are full of texture, rich colors and contrast. She is well known for reforming the surfaces if her images by reshaping the form and creating new perspectives.  Sesana's photographs of the sea from her world travels and the images of the Nazca lines of Peru will certainly take the viewer into a fascinating and mysterious journey where everything is peaceful and magical.
The voyage continues through the art of still life painter Federica Zavanella, whom after many years working as an Art Director for an advertising agency in Italy moved to Miami and has dedicated her time in capturing the natural wonders of Florida. The Flying Turtle painted with acrylic on canvas is rich with details, colors and depth, immersing you into a fascinating under water world.  Artist Zavanella uses various mediums to execute her art work; watercolor, acrylic, and ceramics.
The Italian Consul General, Alfredo Barattolo, will be present in support of artists and also to celebrate "2013, Year of Italian Culture in the US" which is a yearlong celebration of Italian culture in more than 30 cities. This program will showcase Italy's art, science, music, design and innovations from the past and future across America.
Mercedes Cisneros
Gloria Sesana
Federica Zavanella
OPENING