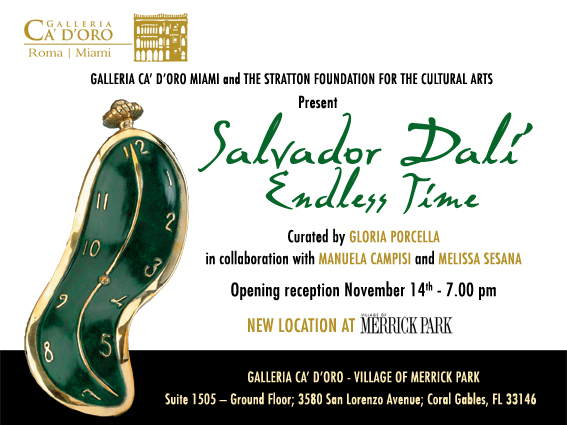 Salvador Dalí :  "ENDLESS TIME"
November 1, 2012- January 31, 2012 | Opening Reception: November 15, 2012
Presented by Galleria Ca'd'oro Miami in collaboration with the Stratton Foundation for the Cultural arts.
Miami, FL: Galleria Ca D'oro is pleased to present Endless Time, an exhibition dedicated to the renowned artist and master of surrealism, Salvador Dalí. The exhibition is slated to open November 1, 2012, coinciding with the unveiling of Galleria Ca'd'oro new location at the prestigious Village of Merrick Park in Coral Gables. The opening reception will be held on November 15, 2012 from 7pm-10pm.
As an artist, Salvador Dalí needs no introduction. He will always arouse interest, speculation, discussion, and most of all, pleasure. "After the exhibition in Rome in Spring 2012 we wanted to open our new location with a great Master, what best of Dalí's creative genius transforms into three-dimensional sculpture, bringing forth his most famous and fantastic surrealistic images. Fifteen bronze artworks will be presented to collectors and art lovers for the first time at the Village of Merrick Park with prices starting from 11 thousand dollars." says Gloria Porcella, curator and owner of Galleria Ca'd'Oro.
The exhibition includes two stunning museum sculptures: the Snail and the Angel, and the iconic melting watch for which Salvador Dali is perhaps best known: the Nobility of Time. The latter sculpture depicts a soft watch draped around a tree; on top of the watch is a crown. "The crown of a watch" usually refers to the mechanical device used to set the hands and wind the timepiece. But time, according to a Dalínian watch, cannot be set. Thus, Dali's crown represents time's mastery over man.
Standing in the garden of the Village of Merrick Park is the highlight of the exhibition: Woman Aflame. The monumental sculpture stands an imposing 11.8 feet tall, creating a striking visual impact which will surely leave viewers awestruck.
This enthralling collection offers the public a rare opportunity to experience Dalí's genius and untamed imagination firsthand, sending each viewer on an adventure into his captivating world of art and Surrealism.
The exhibition is organized in collaboration with the Stratton Foundation for the Cultural arts. Mr. Benjamin Levi, President of the Stratton Foundation, is both an expert on and avid collector of Dalí's work. With the focus on bronze sculptures, each piece in this collection-assembled over the last forty years-has been carefully chosen to bring various aspects of Dalí's life's work to the public eye.  These sculptures have been displayed in famous cities such as London, Paris, Berlin, Rome, Singapore, and Shanghai.
This exciting project has been managed by Gloria Porcella, the gallery's curator, in collaboration with Manuela Campisi and Melissa Sesana. Campisi and Sesana are currently working together with Galleria Ca' d'Oro on a public art project in London.
Opening