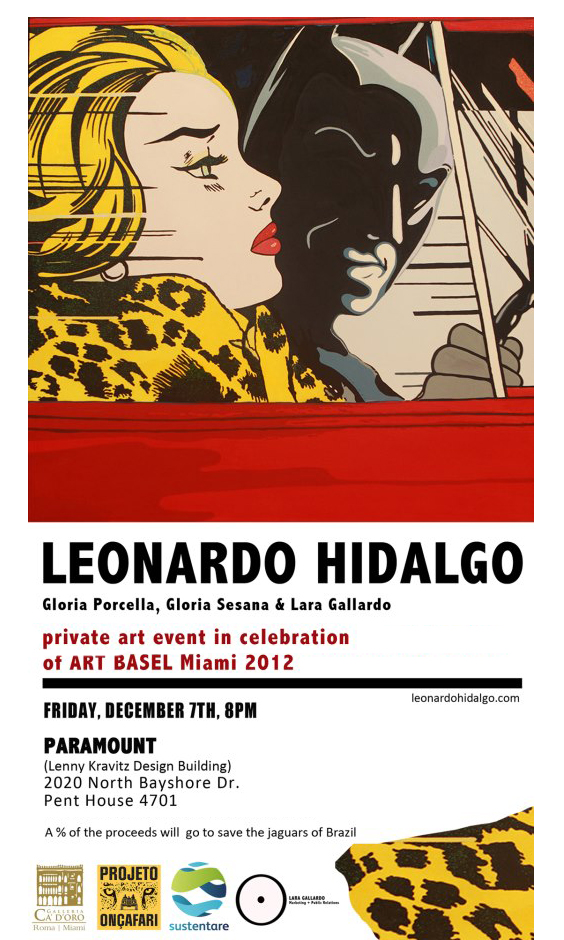 INTERNATIONAL CELEBRATED POP ARTIST LEONARDO HIDALGO WILL BE HOLDING A PRIVATE ART BASH DURING ART BASEL TO SAVE THE ENDANGERED JAGUARS OF BRAZIL
December 6, 2012- Miami: Celebrated pop artist, Leonardo Hidalgo, also known as the city of Miami's official artist, announced today a private art showcase and reception in honor of the endangered jaguars of Brazil. Presented in partnership with Galleria Ca'd'Oro, Lara Gallardo, Sustentare and Projeto Oncafari Foundation, the event will take place on Friday, December 7th, from 8pm-11pm at the iconic PARAMOUNT.  In honor of this event, Hidalgo has created a series of unique jaguar pop paintings, to raise awareness and funds for the foundation to continue their efforts in saving these beautiful exotic animals from extinction.
LEONARDO HIDALGO Art Basel Private Event for an ART CAUSE: VIP Collectors, Public Personalities and art enthusiasts will be able to enjoy 30 Hidalgo artworks in a intimate setting.
Hidalgo's unique style combines pop art, the American way of life, comics of his time, and Japanese art. Ecuadorian by birth, Hidalgo, has made the United States his home since 1990 and lives painting as a career ever since.  His work has attracted international acclaim and is collected worldwide for his fine art paintings and memorable portraits of famous faces.  He melds photography, computer graphics, paint and fabric to create his wide variety of individual art pieces.
ABOUT SUSTENTARE: Sustentare is a non-profit organization that aims to promote, support and fundraise for several sustainable projects in Brazil.
ABOUT PROJETO ONCAFARI: Projeto Onçafari is a conservation initiative that aims to promote ecotourism in the Pantanal (Brazil) by habituating Jaguars in order for people to witness the fascinating behavior of these beautiful animals, from a safari vehicle, while on safari. Ecotourism is being used as an important conservation tool in many places around the world, providing an important source of income for landowners and local communities who in turn do their part by ensuring that the ecosystem stays intact; large tracts of land are conserved around the world in this manner. www.projetooncafari.com.br