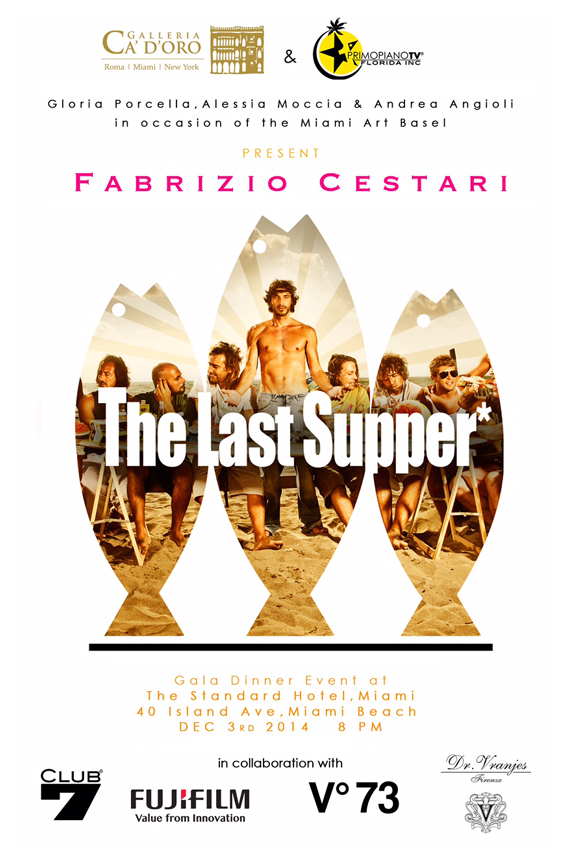 Miami, Fla. (November 2014)–Gloria Porcella, owner of Galleria Ca' d'Oro will honor award-winning photographer and director Fabrizio Cestari during Art Basel Miami 2014.
For this year's Art Basel Miami, Galleria Ca' d'Oro will celebrate the incredible works of Cestari, whose photographs, rich with ironic and subliminal messages, have received a multitude of awards and recognition by organizations worldwide—Prix de la Photographie, International Photography Awards and Sony World Photography Awards, to name a few. His photographs have been exhibited in galleries globally and have also been featured in magazines such as Vanity Fair. Cestari has also photographed A-listers including Al Pacino, Willem Dafoe, Dustin Hoffman and Spike Lee, as well as style icons and entrepreneurs Dean and Dan Caten of DSquared.
Bio Fabrizio Cestari (born January 13. 1979), is a commercial photographer, fine-art photographer, music video director and artist.
His photography style sometimes references art history and is rich of subliminal and ironic messages.  As a child he took down and reassembled his father collection of cameras.
His only toys were superheroes, pin – up Barbies and gloomy dolls which later he starts to collect until now. Because he studied constantly, driven by a need to learn as much as possible as well as to escape from the real life of his generation, he preferred the loneliness, so he came in touch with the main inspiration of the pop and surreal and by his own photography evolution, he  created a remarkable and renewed fantasy world.
Photographer and director Fabrizio Cestari is the Winner of numerous international awards such as the Sony World Photography one, he is also veteran of the victory of the 1st prize at the International Photography Awards in NY, the most important recognition in the photography world. His style is inspired by surreal and slightly irreverent, he created portraits for the most important celebrities like Al Pacino, Woody Allen, Dustin Hoffman, Eleonora Abbagnato, Roberto Bolle, Abel Ferrara, Willem Dafoe, Spike Lee, Stromae and Bob Sinclair.
He also started his career as director in 2012, directing tv shows. He won the Medimex award 201 3 for the best music video with "La nuova stella di Broadway" of Cesare Cremonini.
WORKS
DINNER GALA