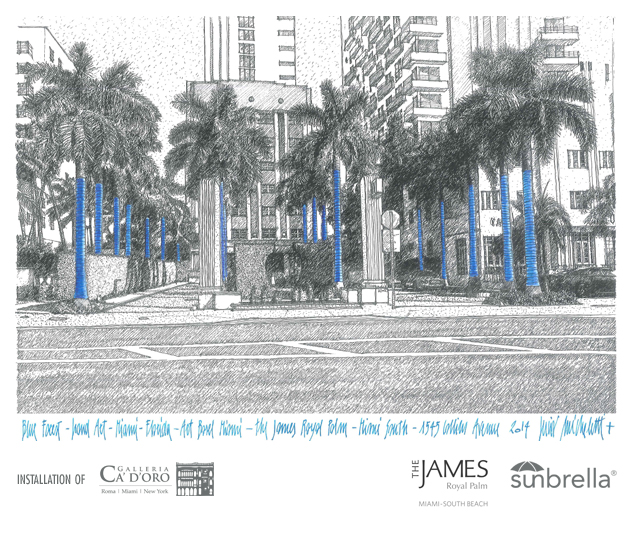 OASIS BLUE FOREST by LUCIO MICHELETTI
featuring SUNBRELLA Fabric
at THE JAMES ROYAL PALM
1545 Collins Avenue, Miami Beach, FL 33139
DECEMBER 4th to 6th 2014
"Blue Forest is a conceptual work of art that reflects how easily our environment can be changed. I transformed the trees at The James Royal Palm by enveloping them in blue Sumbrell frabric…not to hjide the identity of the trees but rather to serve as a figurative bandage of environmental concern, in the hopes of stimulating a new sensibility and ecological understanding".
This installation of Land Art, "Blue Forest", intends to give the viewer an experience that creates awareness of environmental issues through the use of art.
Tree trunks are wrapped with blue fabric, creating a stage and temporary effect (touchable). The colour blue (in natural light,) is chosen by the artist to encourage the viewer to reflect on the installation's environmental message. Showing the viewer that only simple changes are needed in the tree's appearance, to bring awareness of how little it takes to change the environment. Representing a simple and effective concept for preservation.
"Blue Forest" changes a place in a spectacular but temporary way. The ecological balance of the place and use of natural materials are taken into consideration.