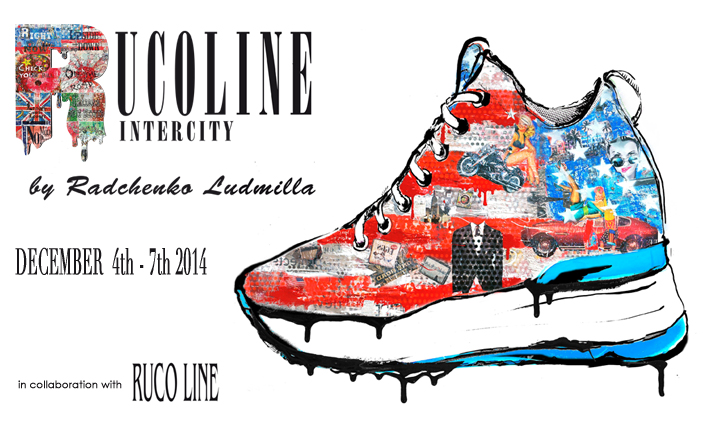 GALLERIA CA' D'ORO WILL PARTNER WITH RUCO LINE
AND ARTIST LUDMILLA RADCHENKO DURING ART BASEL MIAMI BEACH WEEK
MIAMI, FL (October 12, 2014) –Galleria Ca' d'Oro will present  "Ruco Line Intercity," a fashion and art project created by artist Ludmilla Radchenko in collaboration with Ruco Line, an Italian contemporary shoes and accessories design company, during the week of Art Basel Miami Beach.
The distinctive signature of Ludmilla Radchenko, now an established celebrity Pop icon in Europe, will create artworks for a capsule collection. Her unique style, which utilizes bright color, blends photography, digital collage and lively acrylic painting. With her unmistakable style, Radchenko interprets a series of eight artworks for Ruco Line, giving birth to pop emblems to be worn on sneakers, maxi sweaters, leggings and scarves. The artist literally "spells" the brand through a series of flags, where each letter represents the initial of a country or a city that symbolizes an important step in Ruco Line's history and international development. In 2014, Ruco Line had a similar artistic partnership with Gagosian Gallery when they collaborated on a limited edition mirrored shoe created by French architect Jean Nouvel.
A series of daily events and performances are planned at the Ca' d'Oro gallery during Basel week.  These will include a VIP reception with the Italian Consul General, fashion shows and a series of dance performances.
WORKS
OPENING