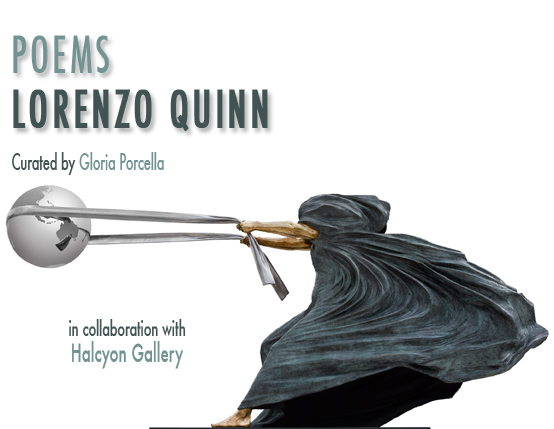 International sculptor, Lorenzo Quinn, announces his new solo exhibition at Galleria Ca' d'Oro Miami, marking a pivotal moment in the artist's career. During Art Basel season his sculptures will be also exhibited at the same time at the Art Fair Context/Art Miami in Wynwood and in the beautiful Biltmore Hotel in Coral Gables.
Entitled Poems, the show will feature a visible artistic progression, highlighting the sculptor's experimentation with new mediums and subject matter, resulting in subtly abstracted ways of relaying his universal message to his viewers. New titles and finishes are interspersed with some of his more familiar works, leading to the notion of a mini-retrospective – a showcase of his creative development over the last several decades.
'This is a new view – something I have not talked about in the past. In a way, I'm abstracting my message, my story. Before, the love was always represented by hands in different positions. Now it has morphed into representative materials: a gold stone represents faith; a red stone, the passion; stainless steel for friendship; and wood to represent the warmth of family. The figures, of course, represent the balance.'
Lorenzo Quinn
At his sculpture foundry, set back in the mountains of Spain, Quinn and his team of skilled artisans still employ the antiquated 'lost-wax' process to create his works of art. An initial model must be created, which contains an impression, or negative space within the positive mould. The resulting wax mould then becomes the receptacle for the molten bronze which has been heated to an incredible temperature of nearly 2200 degrees Fahrenheit (1200 degrees Celsius). Once the bronze has set, the wax will be melted from its ceramic shell, by heating the whole entity in an autoclave. When the wax is eliminated and the ceramic shell has cooled, it is then broken, revealing the inner sculpture which is now set in bronze.
Quinn's historic connection to the Masters of the past, through his technique and execution, is undeniable. In the same vein, he often employs age-old symbols and icons within his work. Traditionally, the circle has always been taken as a symbol of infinite continuity. Adjectives such as metamorphosis, equilibrium and evolution come to mind, suggesting themes of adaptation, balance and harmony – words that have also been used as exhibition titles for a selected number of Quinn's exhibitions in the past.
Ever present in Quinn's body of work, the ideals and universal characteristics of love and relationships are still portrayed. However, the artist also turns away from interdependence, allowing for an alternative focus on individuality and independence.
Poems, as an exhibition, in a way represents the many faces of Lorenzo Quinn as an artist and as a person – an overall scope of the artist's legacy, hints of his future trajectory, and everything that has come in between.
LORENZO QUINN
For Quinn, sculpture is primarily an art of communication, a medium through which he aims to bring tolerance, understanding and harmony. 'I make art for myself and for people who wish to come along for a ride through my dreams', he says. 'How we live our own lives is of the utmost importance, and my work is to do with values and emotions.'
Born in Rome to the Mexican-American actor Anthony Quinn and his second wife, Iolanda Addolori, Lorenzo Quinn had a childhood split between Italy and the USA. His father had a profound influence on him, both in terms of living in the limelight of the film world and with respect to Anthony Quinn's early work in painting and architecture. Studying at the American Academy of Fine Arts in New York, Quinn planned to be a Surrealist painter.  However, at 21 he decided that his future lay in sculpture, which could better accommodate his energy and originality.
Among the artists who influence Quinn are Michelangelo, Bernini and Rodin.  Quinn usually conceives each work in writing, and the poetic text is ultimately displayed with the sculpture, as an integral part of the piece, not merely an explanation.
Quinn's work appears in many private collections throughout the world and has been exhibited internationally during the past 20 years.
OPENING