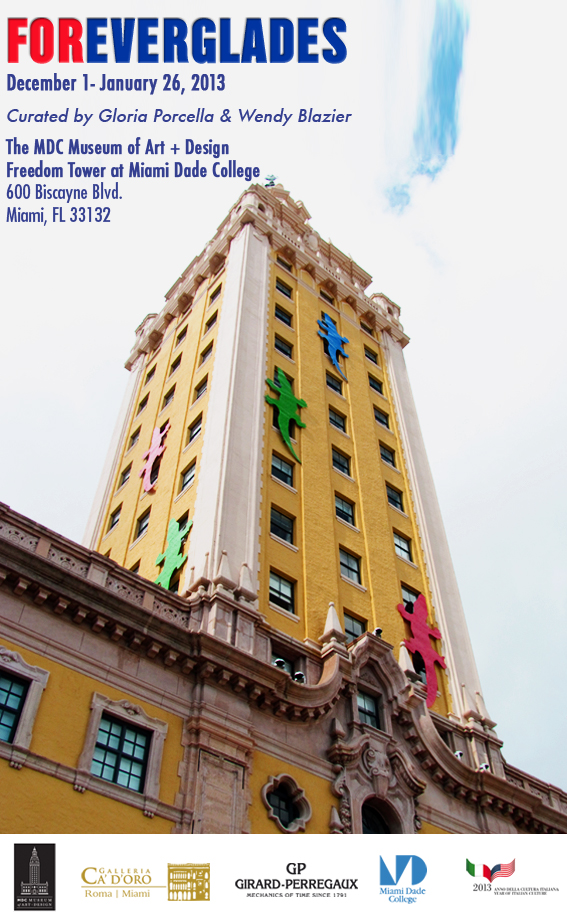 Galleria Ca D'oro is pleased to present FOREVERGLADES an environmentally minded public art exhibition by International Artists William Sweetlove and artists collective, Cracking Art Group. Presented in partnership with Miami Dade's College Museum of Art + Design and famed Swiss watchmaker Girard-Perregaux, FOREVERGLADES will open with a public reception on Friday, November 30th, at 7pm at MDC's historic Freedom Tower. The exhibition will run through Saturday, January 26th, 2013.
FOREVERGLADES, an interior and exterior installation in the public realm, establishes a locally conscious perspective focusing on environmental protection, sustainability, and advocacy of South Florida's National Parks and Preserves.  An exhibition unlike anything else of its kind, FOREVERGLADES will encompass a presentation of 300 animals made out of recyclable plastic, resin, and aluminum, native of South Florida, including three specific regional species: native alligators, sea turtles, and frogs literally crawling up, down and around Miami Dade College's nationally historic building – a feat never before attempted on the famed structure. For the European-based artists, William Sweetlove and Cracking Art Group, the animals were researched and selected for the important role each play in the development and history of our local landscape.
Accompanying the exhibition, the museum in partnership with the MDC Earth Ethics Institute, US National Parks Conservation Association, Everglades National Park, Biscayne National Park, Dry Tortugas National Park and Big Cypress Preserve will present:  FOREVERGLADES: here today, hopeful for tomorrow, a one-day educational symposium on Friday, November 30th at the MDC Freedom Tower. The one-day event will feature panel discussions, exhibitions, and performances focusing on the education of advocacy for our fragile South Florida landscape and how artists seek unique ways to present the message. The future may be unknown for the Florida Everglades, but FOREVERGLADES is a true testament to how artists use art to create public awareness for the world we compromise in hopes it will exist forever.
Additional support for FOREVERGLADES is provided by the Consulate General of Italy, Consulate General of Belgium, Consulate General of France, Gulliver Preparatory School and the Biscayne Nature Center.  The official opening event for "2013, Year of Italian Culture in the US," will also take place during the opening of FOReverglades with the patronage of the Consulate General of Italy in Miami and the European Ministry of the Environment.
"Italy is well known for its cuisine, fashion, and design.  With this initiative we aim to demonstrate that Italy also has talent in the field of contemporary art. Italians can export brilliant artists and create prestigious events for the world to enjoy.  The ecological messages of our artists are well developed in Italy and we are delighted to collaborate with the national parks here in Miami to further their important work in preserving our environment", declares Gloria Porcella, Italian curator of the Miami Installation.
"The importance of preserving our environment is beautifully represented in FOReverglades", says Michele Sofisti, CEO of Sowind (Girard-Perregaux and jeanrichard). "We hope that together we are able to spread the message further and increase public awareness of this issue".
All programs are free and open to the public.
To learn more about FOReverglades please visit www.for-everglades.com
WATCH THE VIDEOS:

v    nvbn

v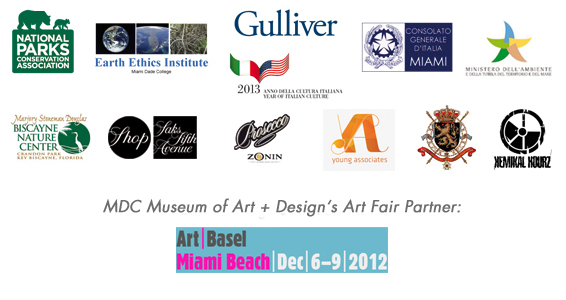 VIP BREAKFAST