barbara | ottobre 18th, 2011 - 11:56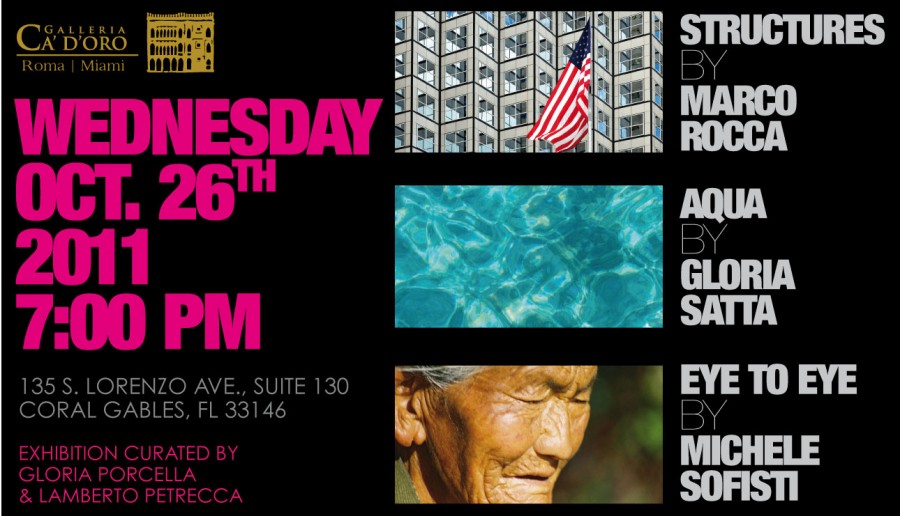 - Galleria Ca' d'Oro opened its doors 10 months ago and now brings its first photography exhibition to Miami. Featuring Consul General Marco Rocca as artist, this exhibition opens with a reception on the 26th October at 7:00pm. The event coincides with the end of Rocca's second assignment to Miami as Consul General of Italy. He established the Miami Consulate in 1992 and then moved on to other diplomatic postings in Spain and Panama before returning to Miami in 2007. Owner of the Rome based gallery Ca' d'Oro Gloria Porcella selected Coral Gables as the home of the gallery's newest branch in part because of its proximity to the Italian consulate. Gloria put together a unique show as an opportunity to say farewell to Consul General Rocca on the eve of his departure, bringing in other high-ranking professionals who are also photographers in their private lives. The ensemble is as much about the people behind the works as the works themselves: Joining Marco Rocca, are CEO of Gucci Watch, Michele Sofisti, and Culture Editor of the Rome newspaper Il Messaggero, Gloria Satta. Sofisti will donate proceeds from eventual sales to Machik, a nonprofit organization working to develop new opportunities for education capacity- building and innovation on the Tibetan plateau.
And, of course, it is all "Made in Italy" and brought to you by Ca' d'Oro.
STRUCTURES by MARCO ROCCA
AQUA by GLORIA SATTA
EYE TO EYE by MICHELE SOFISTI
VERNISSAGE