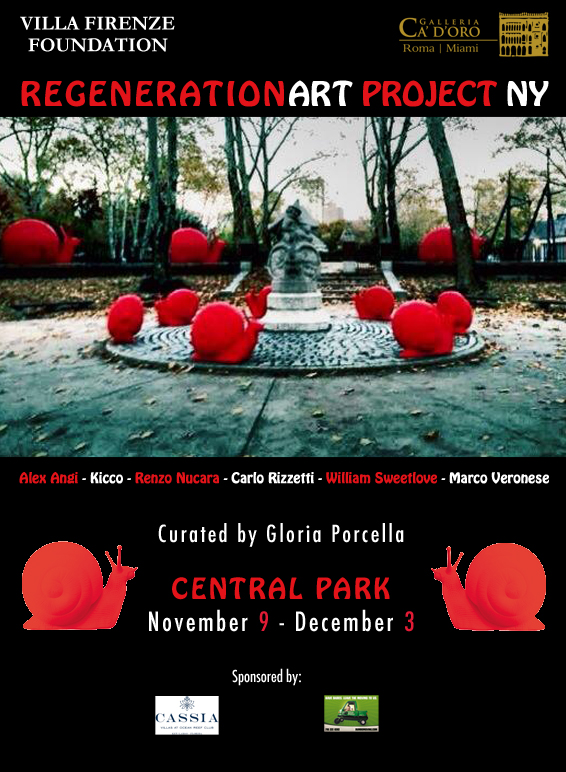 The Cracking Art Group consists of six international artists: Renzo Nucara, Carlo Rizzetti, Marco Veronese, Alex Angi, Kicco, and William Sweetlove.  In its REgeneration Art Project, the group creates public art using recyclable plastic.  Plastic as the medium for its own aesthetic appeal, accepting the inevitability of our world becoming more and more artificial, and using the material's artificiality to express their artistic sense.  The plastic triggers a social phenomenon, of which both the material and the art are available to everyone, and in utilizing recyclable plastic to demonstrate an intelligent use of the material.  With their bold visuals, the artists of the Cracking Art Group aim to link the environmental consciousness to individuals through their installations, in which super-size and visually colored animals appear unexpectedly in everyday places.  These big, vibrant animals invite viewers to re-examine their perspectives on urban life and inspire people to play with their cities.  It is the artists' hope that their art will eventually enable us to regenerate our natural and social environment into a healthy and animated space.
The Cracking Art Group has brought its message of social and environmental awareness to over 600 exhibitions worldwide, including an installation of blue turtles for the G8 Summit 2009 in Italy and the invasion of the sensational pink snails during Art Basel Miami 2010.  The following year, blue snails were featured in Italy during the Venice Biennale 2011 and orange snails in the Rome Sculpture Biennale.  In 2012, the blue crocodile was displayed at the Boca Raton Museum of Art in Florida, while the animals took over the historic Freedom Tower in FOREVERGLADES public art installation in connection with Miami Dade's College Museum of Art + Design during Art Basel Miami.  Earlier this year, REgeneration Art Project installed blue snails at the top of the most important and largest cathedral in Italy, Duomo di Milano, as well as the birth of the new animal – Mama Frog – visiting the Island of San Servolo during the 55th Venice Biennale.  The Frost Art Museum located in Miami, a major cultural institution in Florida, recently acquired the crocodile sculpture as part of the collection for Art Basel Miami 2013.
Through the ongoing support of Galleria Ca 'd'Oro and complemented by Villa Firenze Foundation, the REgeneration Art Project is now embarking on the most populous urban community in the world, New York City.  Red snails will inhabit Central Park from November 9 through December 3, 2013, before moving to Columbus Circle from December 5 to January 6, 2014.  Additionally, the red snails will take refuge at Eataly, purveyor of gourmet Italian foods from December 1 through 20.