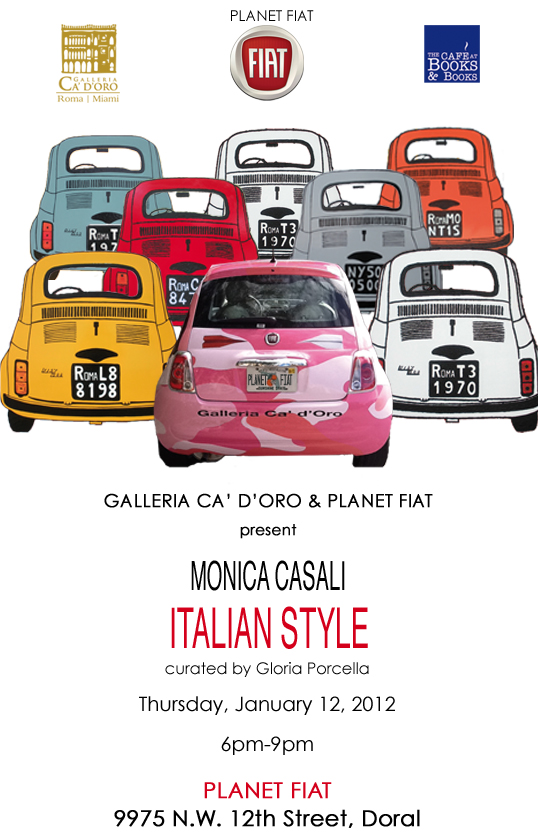 MIAMI, FL, Dec. 29th, 2011 – Gloria Porcella, a longtime Curator and co-owner of Galleria Ca d'Oro in Coral Gables announces she will be hosting an Art Opening at Planet Fiat, which is located at 9975 NW 12th Street, Miami, on January 12, 2012, featuring up and coming artist Monica Casali's Pop Art, which some describe as eclectic, exuberant and cultural. The event will showcase the New Fiat 500's along Casali's "IS IT ART OR A CAR?"
"For me the Fiat Car is a work of art itself. It was my inspiration to do something classic yet fun. Planet Fiat was the perfect place to host my exhibition – after all is it Art or is it just a car?" said Monica Casali who will be arriving from Rome to Miami for exhibition. Claudio Longobucco, Fiat Specialist is excited about the upcoming event and says "to introduce our cars with style and grace to Miami using art as the vehicle is fun and unique!"
Gloria Porcella, host of the event, is just as eager to showcase Monica's artwork. "I love Monica's paintings! They are like Italian dresses filled with joyful colors. Her unique European style helps us to understand why the Fiat became so popular in Italy. My favorite Monica-designed Fiat is the red 500, colored like a Ferrari in a gold background!" says an excited Gloria Porcella. To critics, her work is Pop Art reinterpreted, "Italia-Style".
Currently, Porcella is also exhibiting the multi-tiered project 'The Wind Doesn't Have a Plan' in collaboration with young urban artists Fabio La Fauci and Daniele Sigalot, who are Blue & Joy, which can be seen at Miami Dade College's historic Freedom Tower until January 4, 2012. This exhibit will be open through the Holidays. The story of Blue & Joy has a deep message of outward emotion vs. inner emotion. Looking at Blue's outer expression of tears and a broken heart, he is in fact extremely happy inside and shouting for 'joy.' While, ironically, Joy who shows a bright smile, is very unhappy and feeling 'blue.' "The exhibit demonstrates our daily lives showing an outer face but feeling completely different inside," says Porcella. The artwork of the Italian artists showcases paintings, sculptures, mosaic, photography and digital media, as well as large paper planes sculpted in aluminum, which can be seen at the Freedom Tower.
Gloria began her career in Italy as a Councilor for the city of Rome and worked with the Environmental Minister, where she developed her magnificent talent and organized a range of significant exhibitions including an important tribute to Pope John Paul II in Rome. Gloria's passion for art grew from renaissance to contemporary – "I love pop art, the bright colors are so vibrant and full of joy," said Porcella with a smile. Today, her exhibitions are not only popular in Europe, but they have crossed waters to the United States and landed in New York, Los Angeles and now Miami.
Standing out in Miami's vibrant art scene, the European curator brought a fabulous display of unforgettable giant pink snails to the city of Miami Beach during Art Basel Miami 2010. Towering at eight-feet tall, the giant pink snails then slowly inched their way to the beautiful city of Coral Gables, where Galleria Ca d'Oro, which has been passed on from generation to generation in the Porcella family, opened its doors during Art Basel Miami in December 2010.
The brightly colored snails symbolize an eco-friendly environment. Made with recyclable plastic, the intention is to make the people of Miami stop, look and think about a healthy, vibrant and bright environment. "Everybody loves the snails. They are most popular among the children," says Porcella, co-owner of Galleria Ca d'Oro, who worked with the international Cracking Art Group in bringing the famous pink snails to Miami.
This beautiful public display of Italian contemporary art is the inspiration behind Gloria Porcella's drive to introduce Miami's art scene to the unknown artistic talent of Italy. "When I see something I love, I want to share it with everyone, and art in public places is the best way to do that," says the talented Porcella.
Born and raised in Italy under the influence of the Renaissance period, Gloria Porcella, co-owner of Galleria Ca d'Oro, has been in love with art since she was a child. Surrounded by Italian masters Filippo de Pisis and Giorgio de Chirico, who worked with her father, Antonio Porcella and her grandfather, Amadore Porcella, Gloria grew up with a strong background in the art culture.