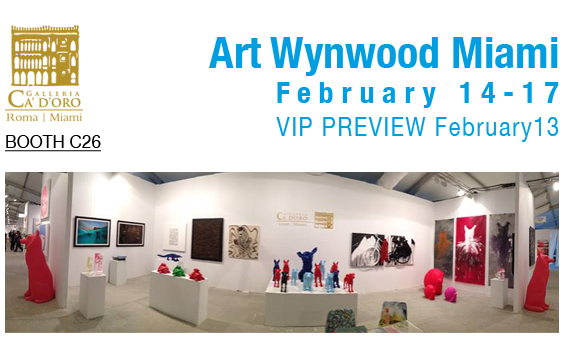 Galleria Ca' d'Oro invites you to visit us at Miami Design District location in the historic 4141 Building to preview the artists that will be on exhibition during Art Wynwood International Contemporary Art Fair including Alice Bonnier, Annette Bonnier, Ewa Bathelier, Erika Calesini, Federico Comelli Ferrari, Cracking Art Group, Enrico di Nicolantonio, Renzo Nucara, Carlo Pasini, Lorenzo Perrone, Alfredo Rapetti Mogol and William Sweetlove.
The first 25 visitors to the gallery will receive VIP tickets to Art Wynwood highly anticipated and, by invitation only, VIP preview event.
Art Wynwood, Miami's five-day International Contemporary Art Fair, will take place during President Day Weekend – South Florida's busiest holiday weekend – and will open with its highly anticipated VIP Preview, Thursday, February 13, from 6pm to 10pm.
Art Wynwood will feature 70 international galleries featuring emerging, cutting edge, contemporary and modern works of art.
The 2014 fair will feature street art, murals, pop surrealism and other genres from the current underground movement. Art Wynwood offers the art enthusiast and seasoned cultural traveler alike a unique opportunity to discover, explore and collect some of the most significant art forms of our time. By presenting these cutting-edge works in a refined atmosphere among a broad range of medium and styles. Art Wynwood is perfectly positioned to advance the growing worldwide recognition of the street art movement.
ANNETTE BONNIER
EWA BATHELIER
ENRICO DI NICOLANTONIO
CARLO PASINI
ALFREDO RAPETTI MOGOL